The Wisconsin Way links The Shrine of Our Lady of Good Help in Champion, Wisconsin, just north of Green Bay, with The Shrine of Our Lady, Help of Christians in Holy Hill, outside Milwaukee, via a walking or driving route for pilgrimage.
New Guidebook Released!
Finally! An experienced guide to help you plan your own Wisconsin Way Pilgrimage has arrived!
WISCONSIN WAY GUIDEBOOK
Today's most complete guide for walking from the National Shrine of Our Lady of Good Help near Green Bay, Wisconsin to Holy Hill near Milwaukee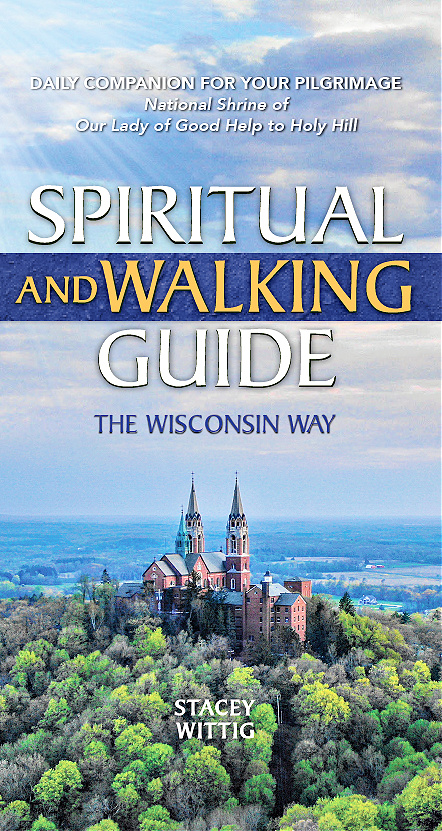 Fr. Andrew Kurz teamed up with Camino author Stacey Wittig to produce a Wisconsin Way guidebook.
This handy three-in-one book incorporates daily devotions for spiritual direction, the historical context of the spiritual hotspots encountered along the route and way guides for the physical journey.
This guide, designed to fit in your pocket, is suitable for any walker or cyclist.
Included in this book:
Color maps and photos
Elevation profiles
Turn-by-turn directions
List of spiritual hotspots
Terminology of glacial topography
Meditations for the inner journey
Essential information needed to plan your outer journey
The Wisconsin Way guidebook is available now on Amazon at https://bit.ly/WiWayGuide
Also, don't miss the author, Unstoppable Stacey's, excellent Beginner's Guide.
A 6-day Pilgrimage for Cyclists
The Pilgrimage Route
Established in 2013, The Wisconsin Way brings the experience of The Way of St. James (Del Camino de Santiago) to America, expanding pilgrims' access to the adventure and spiritual blessings of pilgrimage.
Beginning the journey in Champion, pilgrims can experience the beauty and mystery of The Shrine of Our Lady of Good Help, recently approved and proclaimed as worthy of belief the first Marian apparition site in North America. The establishment of this pilgrimage is in part a fulfillment of Mary's exhortation to Sister Adele Brise, "Gather the children in this wild country and teach them what they should know for salvation."
Winding through the Wisconsin countryside, pilgrims experience the breathtaking wonder of God's creation. Each point connects a parish, chapel, shrine or monastery, allowing for prayer and devotion along the way.
Holy Hill provides the stunning destination for the end of the pilgrimage. The Basilica rises above the hills and forest of the Kettle Moraine to be seen for miles. Experience the awe of the natural world surrounding the beauty of the Basilica's architecture, praying the Stations of the Cross, visiting Jesus in Adoration, and celebrating Mass with other pilgrims.